Riglos 
- Athletic climbing
Feel the verticality under your feet, you will not forget it! Climbing in Riglos is very special; there are plenty of "bolo", very big catches that make it unique.
  Characteristics 
Duration: 1 day
Participants: 1-2 people, depending on the activity
Physical level: good / very good
Technical difficulty: medium / difficult
  Suggestions 
Travesía de las cinco puntas (150 m, IV+), Mallo Fire
Cara norte (160 m, 6a) al Puro. Ascensión elegante a esta aguja super estética
Espolón Adamelo (250, V+), Mallo Pisón
Serón Millán (250 m, 6ª), Mallo Pisón
Mosquitos (250 m, 6a), Visera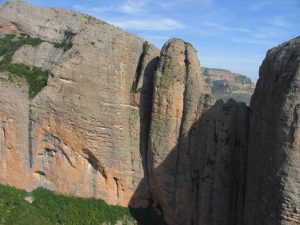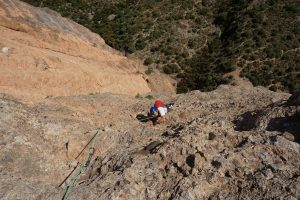 Mountain Guide all days
Accident and civil liability insurance
Common equipment: ropes, carabiners, …
Personal equipment: climbing shoes, harness, cordelette
Transfers to the activity's starting place 
Accommodation, transfers and food during the activity
Looking for something different?
Contact us, we will help you fulfill your dreams!