Salenques - Tempestades Arête 
- The most classical one
  Characteristics
Duration: 1 day
Participants: 2 people
Physical level: very good
Technical difficulty: difficult
   Salenques Tempestades arête is one of the most classical and desired routes in all Pyrenees. With 3km of arête and 750m of altitude change, grat mountain ambience and reaching the roof of the Pyrenees, it is a mandatory goal.
   It has passes up to IV+/V. Usually, this route's difficulty is not because of its grade, but because other factors such as its length or difficult getaway.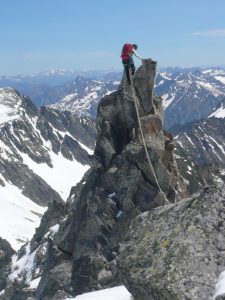 Salenques Arête
Price per person
Mountain Guide all days
Accident and civil liability insurance
Common equipment: ropes, carabiners, …
Personal equipment: climbing shoes, harness, cordelette
Transfers to the activity's starting place 
Accommodation, transfers and food during the activity
Looking for something different?
Contact us, we will help you fulfill your dreams!