Cavallers 
- Infinite possibilities
Cavallers is a granite climbing area located in a very alpine location, at 1.800m. Placed in Vall de Boí, it is one of the entrances to the Parc Nacional de Aigüestortes i Estany de Sant Maurici, the only National Park in Catalunya. There are plenty of options, from technical and difficult climbing routes, to sport or multi-pitch climbing routes.
  Characteristics 
Duration: 1 day
Participants: 1-2 people for multi-pitch climbing, or 1-4 for sport climbing
Physical level: low / good / very good 
Technical difficulty: easy / medium / difficult
  Suggestions 
Blues (235 m, 6a+), Cuarta aguja de Comalestorres
Pistacho asesino (235 m, 6a), Cuarta aguja de Comalestorres
Rap del niño (275 m, 6a+), Pared del enanito duro
Profiteroles (800 m, 6c o 6a+/A0), Aguja Jordi Pujol
Noche de acción (260 m, 6ª), Pa de sucre (2.880 m)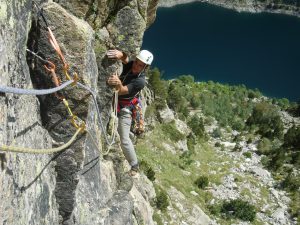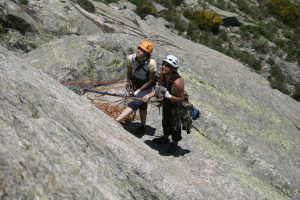 Cavallers
Price per person
Mountain Guide all days
Accident and civil liability insurance
Common equipment: ropes, carabiners, …
Personal equipment: climbing shoes, harness, cordelette
Transfers to the activity's starting place 
Accommodation, transfers and food during the activity
Looking for something different?
Contact us, we will help you fulfill your dreams!