Montserrat 
- History of climbing
Climbing in Montserrat is a unique experience. This place's beauty, and the endless needles, make it very special. Climbing in Montserrat is breathing the history of climbing in Catalunya; many generations of climbers have passed through these walls. Thanks to the amount of climbing options, and their different orientation, it is possible to climb all year round.
  Characteristics 
Duration: 1 day
Participants: 1-2 people, depending on the activity
Physical level: good / very good 
Technical difficulty: medium / difficult
  Suggestions 
Vía Punsola (240 m, 6c+ o V+/Ae), Cavall Bernat
Sánchez Martínez (300 m, V/Ae), Pared de Diables
Easy Rider (285 m, 6b o V+/Ae), Pared de l'Aeri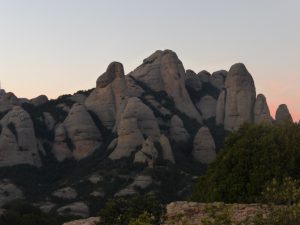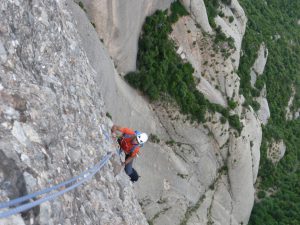 Montserrat
Price per person
Mountain Guide all days
Accident and civil liability insurance
Common equipment: ropes, carabiners, …
Personal equipment: climbing shoes, harness, cordelette
Cable car pass for the client and the guide, in case of using it
Transfers to the activity's starting place 
Accommodation, transfers and food during the activity
Looking for something different?
Contact us, we will help you fulfill your dreams!