Terradets 
- The longest walls
Multi-pitch climbing in the walls of Terradets, a limestone wall of 400m with great rock, located in the Pre-Pyrenees, Catalunya. Close to Terradets you will find many other famous limestone walls, like Vilanova de Meià, Roca Regina or Montrebei.
  Characteristics 
Duration: 1 day
Participants: 1-2 people, depending on the activity
Physical level: good / very good
Technical difficulty: medium / difficult
  Suggestions 
Amanita moscata (270 m, 6a+), Terradets
Vía del Alba (240 m, 6a), Terradets
Reina Puig (530 m, V+/Ae), Terradets
Gali-Molero (500 m, V+/Ae), Roca Regina
Montse Pueyo (230 m, 6a+), Vilanova de Meia
Lleida (210 m, 6b o V+/Ae), Vilanova de Meia
Diedro gris (410 m, 6a+), Montrebei, paret de Catalunya
CADE (550 m, 6c o 6a/A0), Montrebei, pared de Aragón
Vía del Marquitos (275 m, 6a+), Montrebei, pared de Aragón
  Each wall has a different ambience; there are walls close to the parking lot with very equipped climbing routes like Terradets; and more adventurous walls in a wild environment, like Montrebei.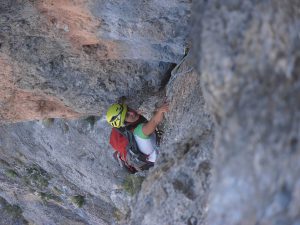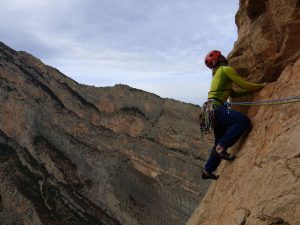 Terradets
Price per person
Mountain Guide all days
Accident and civil liability insurance
Common equipment: ropes, carabiners, …
Personal equipment: climbing shoes, harness, cordelette
Transfers to the activity's starting place 
Accommodation, transfers and food during the activity
Looking for something different?
Contact us, we will help you fulfill your dreams!