The 3x3.000m route 
- Aneto, 
Posets and Perdiguero, the highest peaks in the Pyrenees
  Characteristics
Participants: 1-6 people
Physical level: good (around 8-10h of daily activity and 1.500m altitude difference)
Technical difficulty: medium (ability to feel comfortable skiing in all kind of snow)
  5 days route that climbs 3 of the 3.000m peaks in the Pyrenees: Aneto, Posets and Perdiguero
  We will get to ski the longest descents in the Pyrenees
  A solitary alpine rute where we will enjoy the wildest part of the mountain
  Access to mountain huts and Hospital de Benasque, hotel that has all kind of amenities and excellent gastronomy.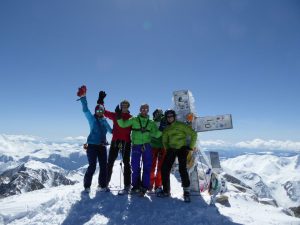 The 3x3.000m route
Price per person
Mountain Guide for 5 days
Half board accommodation 4 nights (1 night in Hospital de Benasque, 3 nights in mountain huts)
Inspection and training in the use of safety equipment
Collective equipment: ropes, first-aid kit,…
Transfers to the activity's starting place 
Food, picnics and drinks
Personal equipment & safety equipment
Looking for something different?
Contact us, we will help you fulfill your dreams!
Activities in mountains and canyons are subject to meteorological conditions. These conditions can be cause of modification and even cancellation of the activity if the guide thinks it is necessary.
Yes, all activities include accident and civil liability insurance. The insurance will only have coverage during the development of the activity, not during the rest of the day or during transfers. It is also advisable to have the mountain federation insurance.
The guide reserves the right to change or cancel the activity, dates or place of the activity, depending on the weather, the conditions of the terrain or the participants. In case of cancellation by the client, and if the activity is cancelled less than 48h in advance except for a major reason, the deposit will not be refunded.
Activities carried out in the mountain can carry some implicit risk. Hiring the service of a professional guide means minimizing it, it means leaving the decision to be taken under his/her criteria, being he/she responsible for the group during the development of the activity, but you must know that zero risk does not exist. The guide is exempt from all responsibility of those people who do not follow the guidelines or act with negligence, as well as if they are under the effects of any narcotic or medication during the development of the hired activity.