Besiberris Arête 
- Demanding and enjoyable
  Characteristics 
Duration: 1 day
Participantes: 2 people
Physical level: very good
Technical difficulty: medium / difficult
 It is a technically simple ridge, with some abseiling, but very long and we must be technically and physically prepared to face great altitude change (about 1.500m total).
 The access is made from Cavallers dam (1.750m), in Vall de Boí.
  You will feel like an acrobat climbing this arête, with a magnificient aerial view, surrounded by an infinity of lakes. It is locted in the National Park of Aigüestortes i Estany de Sant Maurici, area with more lakes in the Pyrenees; more than 200.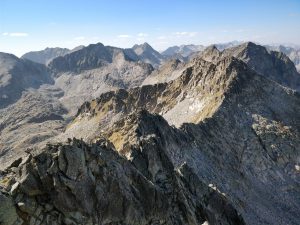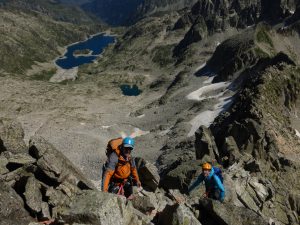 Besiberris Arête
Price per person
Mountain Guide all days
Accident and civil liability insurance
Common equipment: ropes, carabiners, …
Personal equipment: climbing shoes, harness, cordelette
Transfers to the activity's starting place 
Accommodation, transfers and food during the activity
Looking for something different?
Contact us, we will help you fulfill your dreams!